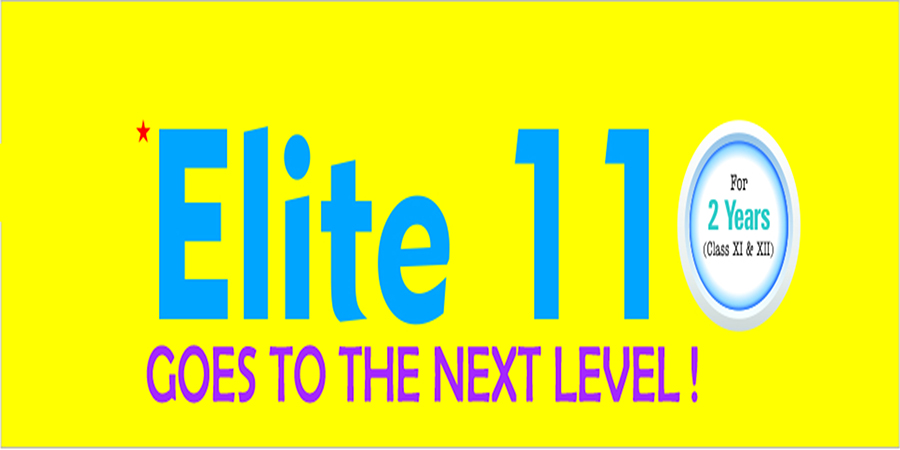 Elite 11 Scholarship
Since 2015, which in fact was the first, while this scholarship facility was being rolled out, care has been taken to strive for a higher level from the takeoff lest it should stagnate just at a complacent summit, and thus Elite 11 Scholarship has been unflinchingly reaching into the hands of meritoriously deserving students. The same affliction for achievement of a tenable next level of this facility saw the initiation of Elite 11 Scholarship for Class 9 and Class 10 also when it was added in the year 2017.
Elite 11 scholarship's success rate itself bespeaks volumes about its advantageous environs since the awarded scholars have demonstrated signs of high level emancipation on the requisite parameters, and most of them have steadily got admission to IITs, AIIMS, SRCC, LS, NLSIU Bangalore and many other prestigious institutions of the country.
What is Elite 11 Scholarship
'Elite 11' is a super scholarship award instituted by Sunbeam Academy, Varanasi. This all-encompassing scholarship supports academically outstanding students, one scholarship at their class 9 and class 10 in science stream and another scholarship at their class 11 and class 12 of any stream – science, commerce or humanities. Both are two separate examination based scholarships. For 9th class and 10th class this scholarship test is open to the students who have passed their class 8 examination. For 11th class and 12th class this scholarship test is open to the students who have taken their class X board examination. In order to avail either of the scholarships a qualifier has to study at Sunbeam Academy, Samneghat, Varanasi.
The Governing Philosophy
Education is the manifestation of perfection, perceived through the panorama of academic achievements of a student. On the other hand, philanthropy is always inclusive of educational objectives that often translates into useful scholarships and grants for the deserving students. Fusing both these perceptions into its theme, and having faith in the wisdom laid therein, Sunbeam Academy launched the 'ELITE 11' programme in the year 2015, thereby providing transformative opportunities for the exceptional ones among the student community.
This superb two year scholarship programme for class 9 and class 10, and another for class 11 and class 12 have been created with an aim to assisting not only the brilliant students who otherwise would find it financially impossible to pursue quality education or access an expert tutorial for professional course admissions in today's competitive world, but also the financially comfortable high potential students to prove their great academic potential in order to avail the pride of winning this prestigious merit scholarship.
This programme supports students who demonstrate a viable propensity to emerge as strong academic resources, and enriches them by making them become a part of the vibrant, stimulating and rigorous education as well as academic outlook.
Since teamwork is an indispensable component to achieving aims and dreams 'Elite 11' scholarships do not limit themselves to solving financial aspect alone, but also provide the students the much needed team support in opportunities around the best available learning facilities.
Eligibility Criteria For Elite 11
Facilities of Elite 11
Top 11 Students from Class IX and Top 11 Students from Science, Commerce & Humanities Stream will receive –
100% off in complete school fee
100% off on Hostel Fee
100% off on Coaching Fee (Both CBSE and Foundation Courses)
Scholarships for other deserving candidates also.
Syllabus & Test Pattern
CLASS IX
Course
Subjects
Test Pattern
Duration
Class VIII

Science
Mathematics
Social Science
English

Pen and paper based

100 objective type questions

+3 for right answer,

-1 for wrong answer

3 Hours
CLASS XI
Stream
Course
Subjects
Test Pattern
Duration
PCM
Class X
English
Physics
Chemistry
Maths

Pen and Paper Test
100 Objective Type Questions
+3 for right answer
-1 for wrong answer

3 Hours
PCB
Class X
English
Physics
Chemistry
Biology

Pen and Paper Test
100 Objective Type Questions
+3 for right answer
-1 for wrong answer

3 Hours
Commerce
Class X
English
Economics
Logical Reasoning
Quantitative Aptitude

Pen and Paper Test
100 Objective Type Questions
+3 for right answer
-1 for wrong answer

3 Hours
Humanities
Class X
English
History
Civics
Geography
Economics

Pen and Paper Test
100 Objective Type Questions
+3 for right answer
-1 for wrong answer

3 Hours